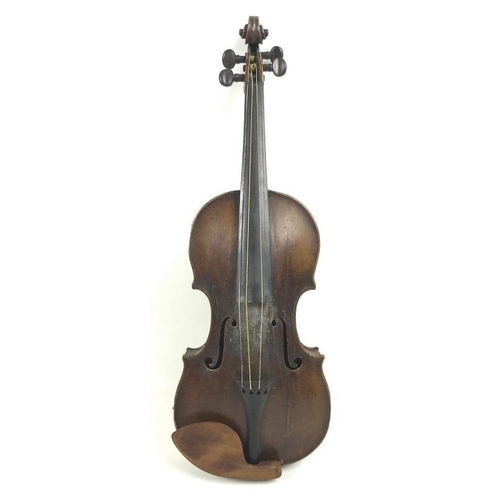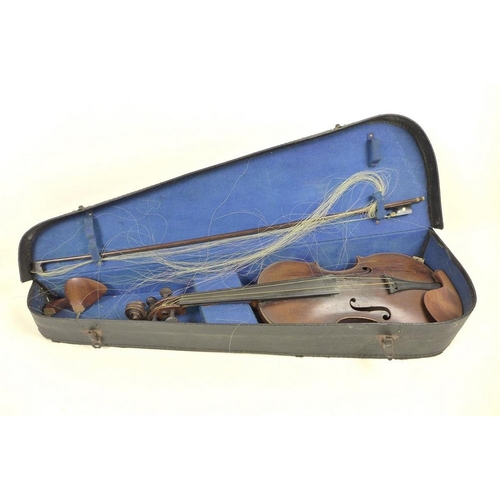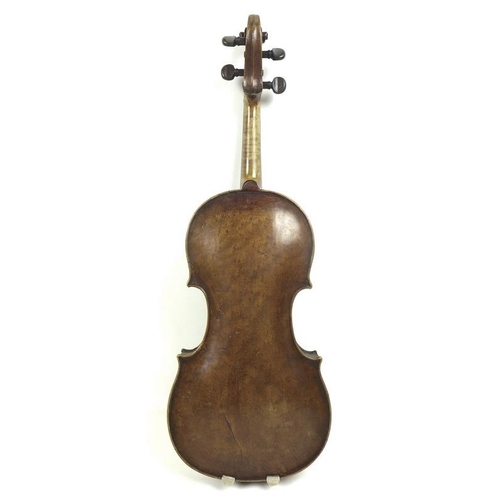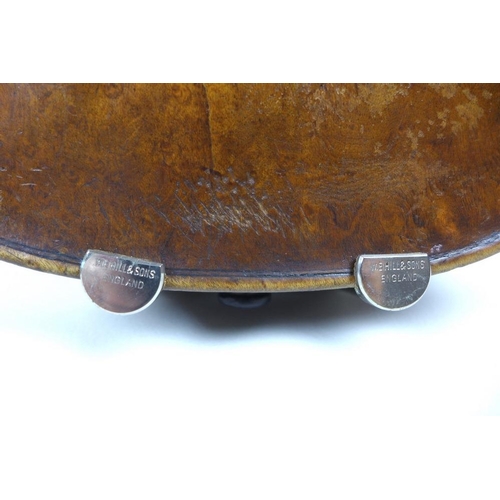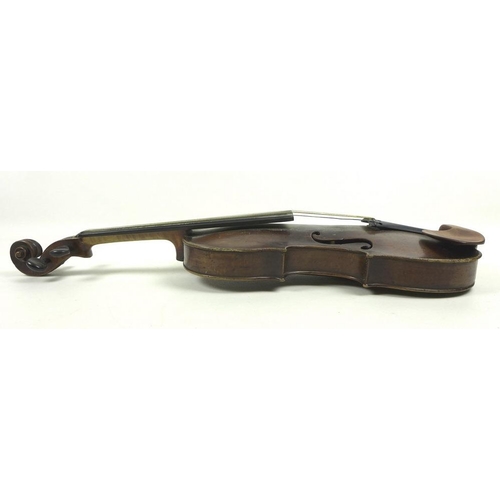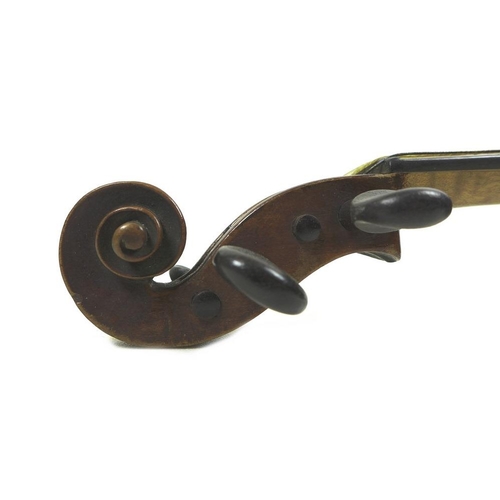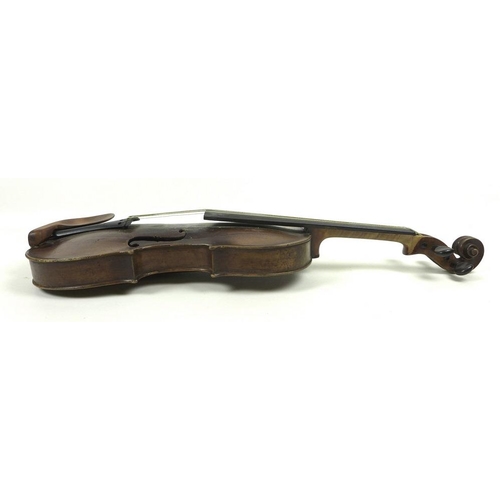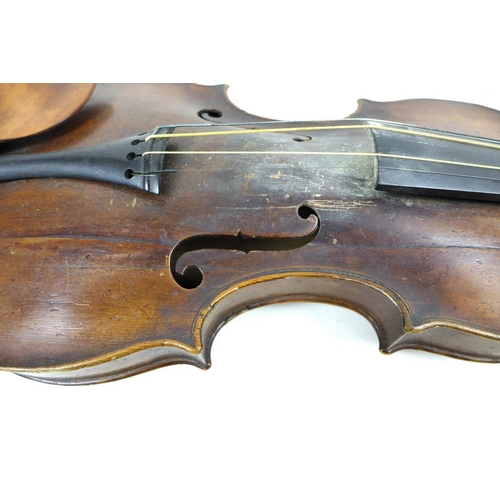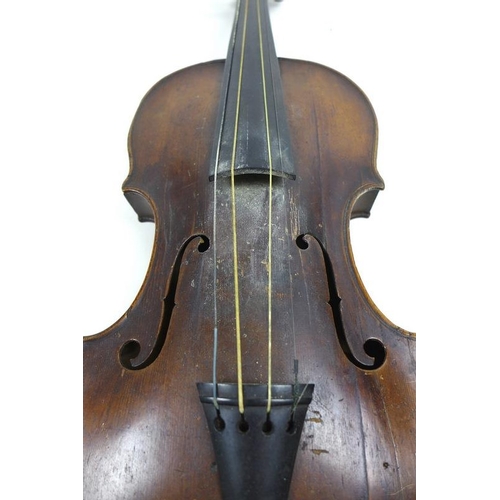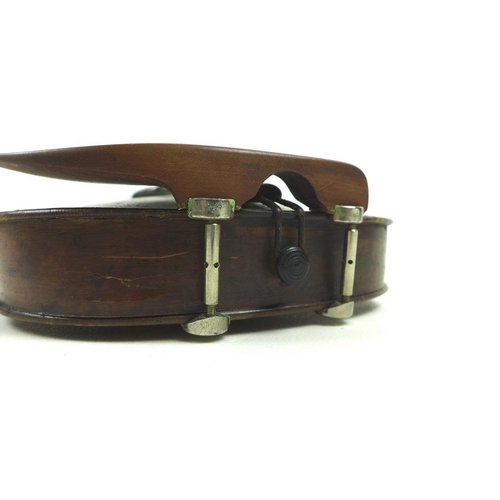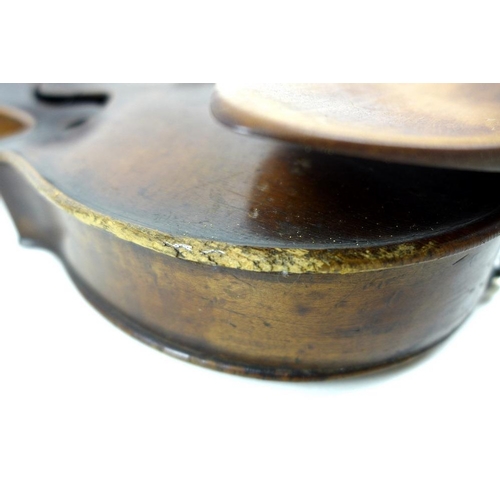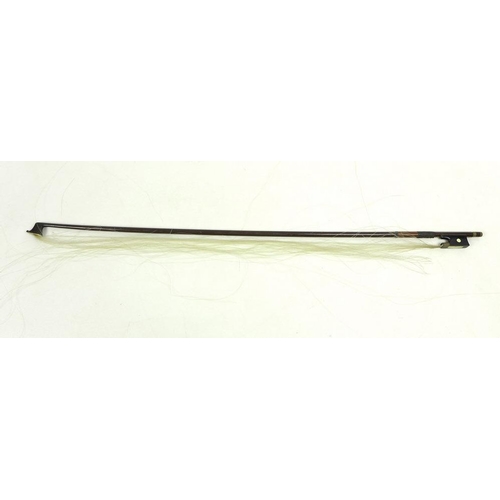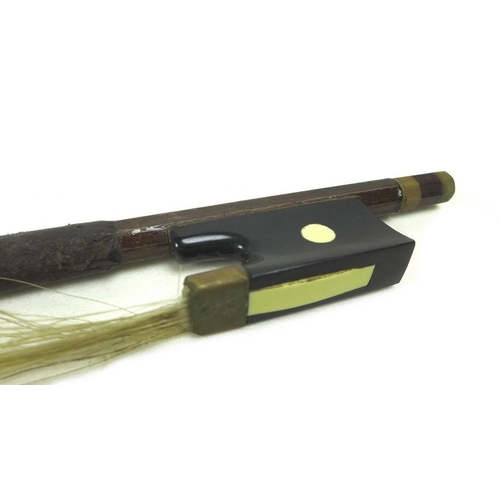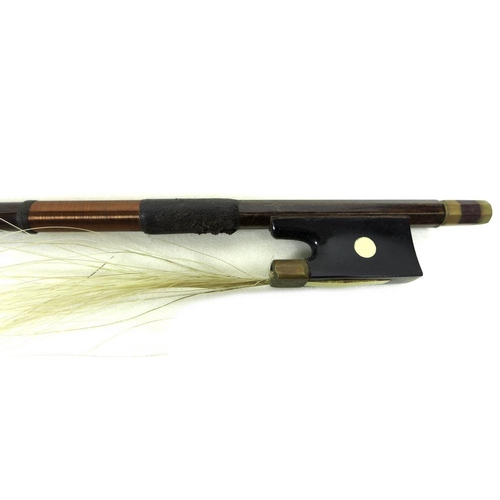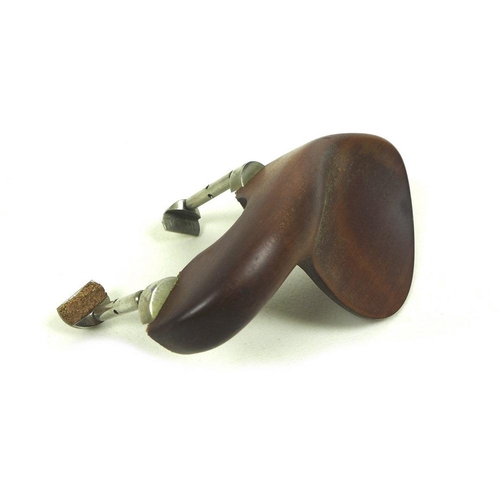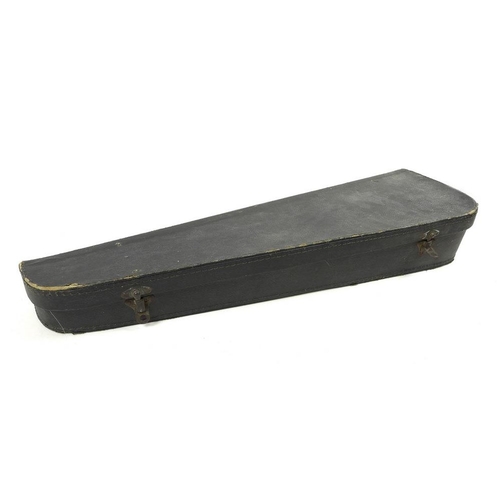 Lot 656
Description:
A late 19th or early 20th century violin, the back of the violin formed of bird's eye maple, attached chin rest and spare chin rest in case both marked W.E. Hill and Sons, 60cm long, together with a bow, 74.5cm, within fitted case, 78cm.

Fees apply to the hammer price:
20% inc VAT*
Your content is being generated for you. Please wait...
(this can take up to 30 seconds)
Auctioneer Terms and Conditions
BATEMANS AUCTIONEERS & VALUERS LTD.
FULL CONDITIONS OF SALE
(Updated as of 1st November 2018)
INTRODUCTION:
The conditions set out below are the terms on which Batemans, as auctioneers, contract with sellers and, as agent acting on behalf of sellers, with buyers. Buyers and sellers should read the conditions carefully, together with the explanation of cataloguing practice. This notice and conditions of sale apply to all sales including sales by private treaty. These conditions supercede all previous terms and conditions issued by Batemans.
FULL CONDITIONS OF SALE CONCERNING BUYERS
1. The Auctioneer as Agent.
As auctioneers, we act as agent for the seller. Unless otherwise agreed, sales of goods at our auctions result in contracts made by the seller, through our agency, with the buyer. As such, we are not responsible for any default by the seller or the buyer.
2. The Buyer.
(a) Bidding is by paddle number only. Prospective bidders must complete and sign a registration form, absentee bid form or telephone bid form and provide identification if required before making a bid at auction. Any person who, nonetheless, makes a bid at a sale will be deemed to have accepted and agreed these Conditions, and the terms of any Notices and other conditions in the catalogue, whether or not they have delivered a completed Registration form, Absentee bid form or Telephone bid form.
(b) Items sold at auction are generally of some age. Accordingly, lots are sold on an 'as is' basis, subject to all faults, imperfections and errors of description. Prospective buyers are strongly advised to examine personally any goods in which they are interested, before the auction takes place. We provide no guarantee to the buyer other than in relation to forgeries, as explained in clause 12 of these conditions of sale. Many items are of an age or nature which precludes them being in perfect condition. The catalogue description is for guidance only and does not imply an item is free from defects nor does a reference to a specific defect imply the absence of others.
(c) Bidding as Principal; When making a bid, prospective buyers will be accepting personal liability, unless it has been agreed in writing, at the time of registration, that a bidder is acting as agent on behalf of a third party acceptable to us. Buyer's details cannot be changed once the invoice is printed at the end of the sale.
(d) The buyer shall be the highest bidder acceptable to the Auctioneers and the Auctioneers shall have absolute discretion to settle any dispute.
(e) Batemans reserve the right at their absolute discretion to refuse admission to their premises or attendance at their sales, without giving any reason therefore.
3. Catalogue Descriptions.
(a) While every care has been taken by Batemans in the preparation of our catalogue, any statement as to authorship, attribution, origin, date, age, size, medium, weight, provenance, condition or estimated selling price is a statement of opinion of the seller or of Batemans and is not to be taken as a statement or representation of fact.
(b) Catalogue illustrations are for guidance only, and should not be relied on to determine the tone or colour of any item or to reveal imperfections. Descriptions as to the condition of any lot, whether in the catalogue, written condition report or given orally are for guidance only and the absence of any reference does not imply that a lot is free from defects. Many items are of an age or nature which precludes them being in perfect condition. The catalogue description is for guidance only and does not imply an item is free from defects nor does a reference to a specific defect imply the absence of others.
(c) Buyers are responsible for satisfying themselves concerning each and every aspect of the lot, including the condition, authorship, attribution, provenance, authenticity, age, suitability and origin, and matters referred to in the catalogue description prior to bidding at the auction.
(d) Explanation of Catalogue Terms: The following terms used in the Catalogue have the following meanings but are subject to the general provisions relating to descriptions of lots contained in the Conditions of Sale:
(i) "Jacopo Bassano": in our opinion a work by the artist. When the artist's forename is not known, a series of asterisks, followed by the surname of the artist, whether preceded by an initial or not, indicates that in our opinion the work is by the artist named.
(ii) "Attributed to Jacopo Bassano": in our opinion probably a work by the artist but less certainty as to authorship is expressed than in the preceding category.
(iii) "Studio of Jacopo Bassano": in our opinion a work by an unknown hand in a studio of the artist, which may or may not have been executed under the artist's direction.
(iv) "Circle of Jacopo Bassano": in our opinion a work by a hand closely associated with a named artist but not necessarily his pupil.
(v) "Follower of Jacopo Bassano": in our opinion a work by a painter working in the artist's style, contemporary or nearly contemporary, but not necessarily his pupil.
(vi) "Manner of Jacopo Bassano": in our opinion a work in the style of the artist and of a later date.
(vii) "After Jacopo Bassano": in our opinion a copy of a known work of the artist.
(viii) "Signed and/or dated and/or inscribed": in our opinion the signature and/or date and/or inscription are from the hand of the artist.
(ix) "Bears a signature and/or date and/or inscription": in our opinion the signature and/or date and/or inscription have been added by another hand.
4. Buyer's Premium and Other Charges Payable by the Buyer.
(a) For All Sales: In addition to the hammer price, a buyer's premium of 16.677%, together with any VAT chargeable thereon, is payable by the buyer, subject to a minimum commission per lot of £4.20 together with any VAT chargeable thereon.
(b) Internet Bidding: an additional buyer's premium is payable for lots purchased via an online 'live' bidding platform.
(i) All lots purchased online (live bidding) via www.the-saleroom.com will attract an additional charge for this service (over and above the above stated 16.677% buyer's premium) in the sum of 4.95% plus VAT of the hammer price, subject to a minimum commission per lot of £4.20 plus VAT. Internet bidders via www.the-saleroom.com will therefore be charged a total buyer's premium of 21.627% plus VAT, subject to a minimum commission per lot of £4.20 plus VAT. In completing the bidder registration on www.the-saleroom.com and providing payment card details and unless alternative arrangements are agreed with Batemans the prospective bidder:
(a) authorises Batemans, if they so wish, to charge the payment card given in part or full payment, including all fees, for items successfully purchased in the sale via www.the-saleroom.com and
(b) confirms that they are authorised to provide these payment card details to Batemans through this site and agree that Batemans is entitled to ship the goods to the card holder name and cardholder address provided in fulfilment of the sale, and making a suitable charge for this additional service.
(ii) All lots purchased online (live bidding) via www.easyliveauction.com will attract an additional charge for this service (over and above the above stated 16.677% buyer's premium) in the sum of 3.00% plus VAT of the hammer price, subject to a minimum commission per lot of £4.20 plus VAT. Internet bidders via www.easyliveauction.com will therefore be charged a total buyer's premium of 19.677% plus VAT, subject to a minimum commission per lot of £4.20 plus VAT, UNLESS the bidder chooses to register for a sale using the FLAT FEE payment option, whereby a fee will be paid direct to Easy Live Auction and the bidder will be able to bid on as many lots within the one sale with no further fees for this service excepting the standard buyer's premium as defined in 4 (a).
(iii) In completing the bidder registration on www.easyliveauction.com and providing payment card details and unless alternative arrangements are agreed with Batemans the prospective bidder:
(i) authorises Batemans, if they so wish, to charge the payment card given in part or full payment, including all fees, for items successfully purchased in the sale via www.easyliveauction.com and
(ii) confirms that they are authorised to provide these payment card details to Batemans through this site and agree that Batemans is entitled to ship the goods to the card holder name and cardholder address provided in fulfilment of the sale.
(c) The Artist's Resale Right regulations 2006 - Droit de Suite: Fully implemented as of 1st January 2012.
It is our policy to charge the buyer an additional premium to cover our expenses relating to the payment of royalties under the Artists Resale Right Regulations 2006. Please note that from 1 January 2012, the Artist's Resale Right will be fully implemented in the UK. The full implementation will mean that a resale royalty will be due for works by deceased artists who are still in copyright.
(i) Some works sold by Batemans will be subject to Droit de Suite (Resale Royalty). This is a royalty payable to a qualifying artist each time a work is re-sold during the artist's lifetime or to the artist's estate or beneficiaries if sold within 70 years of the artist's death. It only applies to work by artists who are nationals of certain countries including the Russian Federation, and EU and EEA members (but not Ukraine) (a full list can be found on the DACS website www.dacs.org.uk )
(ii) Buyers will be charged an amount equal to this resale royalty where it applies. For eligible lots which sell for a hammer price (together with buyer's premium but excluding any VAT) of 1,000 Euros or greater, the additional premium will be payable to us by the buyer to cover our expenses relating to the payment of royalties under the Artists Resale Right Regulations 2006. The additional premium will be a percentage of the amount of the hammer price (plus buyer's premium) calculated in accordance with the table below, and shall not exceed 12,500 Euros.
These resale royalties are not subject to VAT and do not apply when the hammer price is less than 1,000 Euros. Invoices are normally issued in Pounds Sterling, with the resale royalty calculated on the basis of the European Central Bank reference rate on the date of the sale.
(iii) Droit de Suite Scale - Charge Portion of the Hammer Price (in Euros)
Up to 50,000 4%
50,000.01 - 200,000 3%
200,000.01 - 350,000 1%
350,000.01 - 500,000 0.5%
Exceeding 500,000 0.25%
To a maximum of €12,500
5. Value Added Tax.
(a) Value Added Tax is payable on the premium at the prevailing rate, excepting certain items such as books and children's clothes which are zero rated. It may also be payable on the hammer price, if the lot has been marked with a sign to that effect in the catalogue. VAT is charged at the rate applicable on the day of sale. VAT is charged at 20% as of 1st January 2011 unless otherwise stated. All lots sold are subject to the Auctioneers VAT Margin scheme. Revenue regulations require that the buyer's premium must be invoiced at a rate that is inclusive of VAT. The VAT is not recoverable by any business buyer.
(b) Buyers from outside the EU will be entitled to a refund of the VAT on providing Batemans with satisfactory proof of export from the European Union.
6. Absentee Bidding.
(a) Commission (Absentee) Bids. If a prospective buyer gives us instructions to bid on his/her behalf, by using the form available at reception we shall use reasonable efforts to do so, provided these instructions are received not later than 12 hours before the commencement of the auction sale.
(i) In order for us to accept an absentee bid(s) or telephone bids we will require details of a bidder's full name, contact address, contact telephone numbers and contact email address. Bidders unknown to Batemans will have to provide further security information to confirm their identity, e.g. photocard driving licence or passport. Without these details we may not accept the bid.
(ii) If bids are successful buyers accept that they must arrange payment and collection of any purchased lot(s) within FIVE working days.
(b) If we receive commission bids on a particular lot for identical amounts, and at auction these are the highest bids for the lot, it will be sold to the person whose bid was received first.
(c) Since this service is undertaken as a free service to prospective buyers on the terms stated, we cannot accept liability for failure to make a commission bid. Prospective buyers should therefore always attend personally if they wish to be certain of bidding. Failure to sign the bid form may result in the bids not being processed.
(d) All bids made by Batemans on behalf of the prospective buyer will be made at the lowest level possible subject to reserves and other bids made for the lot. Where appropriate the bids will be rounded down to the nearest amount consistent with the auctioneer's bidding increments.
(e) Batemans accept no responsibility to anyone in connection with the commissioning by intending buyers of any of their employees to bid for lots on behalf of such intending buyers.
(f) Telephone Bids. If prospective buyers for a lot make arrangements with us not less than one clear day before the sale, we shall use reasonable efforts to contact the bidders to enable them to participate in the bidding by telephone as the sale takes place, but in no circumstances will we be liable to either the seller or any prospective buyer as the result of failure to do so. Batemans recommend that a covering absentee bid is also left in case of communication difficulties.
(g) By Post: Absentee bidder forms can be posted to Batemans on the forms provided and must be signed by the bidder. These will be subject to the same conditions as Absentee bids (Section 6a – 6e).
7. Conduct of the Sale:
(a) The auctioneer has the right to advance the bidding at his absolute discretion and reject any bid, divide any lot, combine any two or more lots, withdraw any lots from the sale, vary the order in which lots are offered for sale and, in the case of error or dispute, put a lot up for bidding again, without in any case giving previous notice or any reason therefore.
(b) Subject to the auctioneer's discretion, the fall of the hammer marks the acceptance of the highest bid and the conclusion of a contract for sale between the seller and the buyer.
8. Payment.
(a) Upon sale of the lot the buyer shall pay the total amount due (comprising the hammer price, the buyer's premium, any applicable value added tax and any other applicable charges) to Batemans within FIVE working days following the conclusion of the sale.
(b) Upon making such payment, and said payment having cleared, the buyer shall remove the lot purchased from Batemans premises at his/her own expense within FIVE working days after the sale.
(c) No lot purchased shall be removed while the sale is in progress unless at Batemans express discretion. Batemans requests that purchasers wait until the end of the sale to collect items. Purchases will only be released when payments have cleared. Unless we specifically agree to the contrary, Batemans shall retain items sold until all amounts due to us have been paid in full.
(d) If so required by Batemans, the buyer shall give his /her name and permanent address together with his/her bank or other suitable references, and any other proof of identity as Batemans may at their absolute discretion require.
(e) The buyer may be required to pay down forthwith the whole or in any part of the total price, and if he/she fails to do so any lot or lots bought by him/her may, at the auctioneer's absolute discretion, be offered again for resale at any time before the conclusion of the auction.
(f) All payments by bank transfer must be made in pounds sterling.
(g) Payments by any foreign (non UK bank) card will be subject to a 3% surcharge of the total amount payable. There is no surcharge for UK debit or credit card payments. Batemans does not accept payment by sterling cheques, American Express or Diners Club card payments. Credit and debit card payments can be cleared immediately subject to confirmation with the card issuer.
(h) Payment will also be accepted in cash up to the GBP equivalent of 10,000 Euros per transaction or 'series of transactions', in accordance with the Money Laundering Regulations.
(i) We do not accept payment over the telephone by credit or debit card for transactions over £300. Payment of these invoices must be made in person or by bank transfer.
9. Responsibility for Purchased Lots.
(a) At the fall of the hammer, risk in the lot sold shall pass to the buyer, and none to the seller, Batemans, their servants or agents.
(b) At the fall of the hammer the buyer shall be responsible for any loss, omission or damage whether caused by negligence or otherwise.
(c) Ownership in the lot shall not pass to the buyer unless and until payment of the total amount owed has been received by Batemans. A cheque given by the buyer in payment shall not be treated as a receipt until the same has been cleared.
(d) Any packing and handling of purchased lots by the Auctioneers staff is undertaken solely as a service to buyers and will only be undertaken at the buyer's sole risk. The Auctioneers shall not be liable in any event for damage to glass, mirrors or frames, irrespective of cause.
(e) Buyers are advised to obtain insurance in respect of a lot, and to arrange for collection, as soon as possible after the sale.
10. Remedies for Non-payment or Failure to Collect Purchases.
(a) All purchases must be paid for and collected within FIVE working days of the sale. Purchases will be available to collect from the saleroom until the Friday following the sale, after which they will be removed to our storage facility and subject to the storage charges as set out below (see clause 10d).
(b) If no payment is received within twenty five days, the lot shall be re-entered on behalf of the buyer into the next suitable sale and shall be sold with no reserve. If this results in a lower price being obtained, Batemans shall claim the balance from the buyer together with any costs incurred in connection to the buyer's failure to make payment (as set out in section: (c) (iii) below.)
(c) If no payment is received within twenty five days, Batemans as agents for the seller shall also be entitled at its absolute discretion and without prejudice to any other rights or remedies:
(i) to proceed against the buyer for damages for breach of contract;
(ii) to rescind the sale of that or any other lots sold to the defaulting buyer at the same or any other auction;
(iii) without notice to the defaulting buyer at any time to resell the lot or cause it to be resold by public auction or private sale and, if this results in a lower price being obtained, claim the balance from the Buyer together with any costs incurred in connection with the buyer's failure to make payment;
(iv) to remove, store and insure the lot at the expense of the defaulting buyer;
(v) to charge interest at the rate of 2% above the Bank of England Base Rate per month on the total amount due to the extent it remains unpaid for more than five working days after the conclusion of the sale. Such interest will run as well as after as before judgement becoming due and payable forthwith upon demand;
(vi) to retain that or any other lot sold to the same buyer at the same or any other auction and release it only after the payment of the total amount due;
(vii) to reject or ignore any bids made by or on behalf of the defaulting buyer at any future auctions or obtain a deposit before accepting any bids in future;
(viii) to apply any proceeds of sale then due or at any time thereafter becoming due to the defaulting buyer towards settlement of the total amount due and to exercise a lien on any property of the defaulting buyer which is in Batemans possession for any purpose.
(d) Storage Charges:
(i) Any items not collected after FIVE working days following the sale, whether or not payment has been made, will be subject to a storage charge at the buyer's expense of £2 per lot per day for small items and £10 per lot per day for larger items and furniture until collected by the buyer. Batemans will only release the items purchased after payment has been made in full of storage, removal, insurance and any other costs incurred, together with all other amounts due to us.
(ii) Batemans will store purchases (whether paid for or not) for a MAXIMUM of 40 days following the conclusion of a sale. If the items remain uncollected at this time, the lot(s) shall be re-entered on behalf of the buyer into the next suitable sale and shall be sold with no reserve. If this results in a lower price being obtained, Batemans shall claim the balance from the buyer together with any costs incurred in connection to the buyer's failure to make payment (as set out in section: (c) (iii) above).
11. Representations and Statements.
We have an obligation to refund the buyer in the circumstances set out in clause 12. However, neither the seller nor we, nor any of our employees or agents, are responsible for the correctness of any statement as to the authorship, origin, date, age, attribution, genuineness or provenance of any lot, nor for any other errors of description or for any faults in any lot. These are statements of opinion only and not fact. Batemans are not liable for any omissions in the catalogue. Any warranty of any kind whatsoever is excluded by this clause. All lots are sold with all faults and imperfections and errors of description. Buyers should satisfy themselves as to the condition of any lot before bidding for it.
12. Refund in the Case of Forgeries.
A sale will be cancelled and the amount paid refunded to the buyer if a lot sold by us proves to have been a forgery. We shall not however be obliged to refund any amounts if either (a) the catalogue description at the auction date corresponded to the generally accepted opinion of scholars or experts at that time, or fairly indicated that there was a conflict of opinions; or (b) it can be demonstrated that the lot is a Forgery only by means of either a scientific process not generally accepted for use until after the publication of the catalogue or a process which at the date of the auction was unreasonably expensive or impracticable or likely to have caused damage to the lot.
Furthermore, the Buyer should note that this refund can only be obtained if the following conditions are met;
(a) within one month of the sale of the lot the buyer gives notice to Batemans in writing that the lot purchased by him/her through Batemans is a forgery (as herein defined);
(b) the buyer returns the lot to Batemans in the same condition as it was at the time of the auction accompanied by written proof of forgery, the number of the lot, and the date of the auction at which it was purchased; and
(c) the buyer proves to Batemans' reasonable satisfaction that the lot is a forgery and that he/she is able to transfer a good title thereto free from any liens, charges or encumbrances; and
(d) the buyer demonstrates to Batemans' reasonable satisfaction that the lot alleged by him to be a forgery is the lot actually purchased by him/her through Batemans.
In no circumstances shall we be required to pay the buyer any more than the amount paid by him/her for the lot concerned and the buyer shall have no claim for interest. The benefit of this condition is not capable of being transferred, and is solely for the benefit of the person to whom the original invoice was made out by us in respect of the lot when sold and who, since the sale, has remained owner of the lot without disposing of any interest in it to any third party. Batemans shall be entitled to rely on any scientific or other process to establish that the lot is not a Forgery, whether or not such a process was used or in use at the date of the auction. This condition does not apply to coins, medals or jewellery.
13. Estimates.
Batemans makes no representations or warranties as to the anticipated selling price of any item or property. No estimates anywhere made by Batemans, its servants or agents, whether in writing or orally, may be relied upon as a prediction of the actual selling price. Estimates in catalogues, receipts and elsewhere are subject to revision by Batemans from time to time in the exercise of its sole discretion.
14. Refunds.
Batemans agree to refund the hammer price and the buyer's premium to the buyer on the buyer claiming that the seller did not have the right to sell subject to the following conditions;
the buyer was acting in good faith; and
(a) Batemans' insurers agree to the payment under the terms of Batemans' insurance; and
(b) The buyer makes claim in writing against Batemans within 1 year of the sale and either;
(i) Batemans has been prevented from giving possession of the lot to the buyer or the buyer has given up possession of the lot in either case by virtue of a Court Order (including Interlocutory Order) of a court of England and Wales made at the instance of any third party claiming to be the true owner; or
(ii) the buyer has given up possession of the lot to the police in connection with any investigation into the theft of the lot; and
(iii) if Batemans refund the hammer price under this clause then should it transpire the buyer obtained title at auction, title vests in Batemans. Any claim by a buyer against Batemans whether under any of these conditions or otherwise arising out of the sale of any lot shall be limited to the amount (if any) paid by the buyer in respect of such lot and shall not extend to any consequential or other loss or damage or expense suffered by the buyer.
15. Firearms.
The buyer of a firearm is responsible for obtaining a valid firearm certificate, shotgun certificate or certificate of registration as a firearms dealer and for conforming with regulations in force at the time in Great Britain relating to firearms.
16. Electrical and Mechanical Goods.
Lots which were originally operated by mains electricity may not comply with the current statutory requirements and as such are offered for sale solely for display or historical purposes. Buyers should not assume that they are suitable for connection to the mains supply. The buyer acknowledges that Batemans has not tested electrical or mechanical goods and that the buyer is solely responsible for ensuring that such goods are tested by a qualified electrician before using them.
17. Export / Trade Restrictions.
It is the buyer's responsibility to ensure that they comply with all export regulations relating to purchases. We set out general information below (current as at June 2004). Please note that this is a guide only and specific advice should be sought as appropriate.
(a) Endangered / Protected species: The Washington Convention on International Trade in Endangered Species (known as CITES) applies certain restrictions on the import and export of items made of or incorporating endangered or protected animal parts. The Global Wildlife Division of the Department of the Environment, Food and Rural Affairs (DEFRA) is the authority responsible for ensuring that CITES is properly implemented in the UK.
An export license will be required for the export of items made of or incorporating endangered or protected animal parts such as ivory, whale bone, bird feathers, crocodile, tortoiseshell, coral, animal skin or fur. Unlike the regulations relating to the export of other cultural goods (see below), there are no value thresholds relating to these items. A licence is required irrespective of age or value. Please note that the ability to obtain an export licence does not necessarily ensure that you will be permitted to import the items into another country and vise versa.
(b) Other items requiring export licence: In addition to specific rules relating to endangered or protected species, export licenses are required in relation to items manufactured or produced more than 50 years before the date of export outside the UK and/or the European Union. There are export controls which apply on both a UK and a European level. Generally a licence is required in respect of those items which are worth beyond a certain monetary value. The value threshold varies depending on the nature of the specific items and on the destination to which it is intended to export the items. Either a UK or European licence will be required as follows:
(i) A UK license will be required to export any items from the UK to another member state of the European Union valued at or above the relevant UK license limit (as specified in the column A in the table below).
(ii) A UK license will be required to export outside the European Union any items valued at or above the relevant UK license limit (as specified in the column A in the table below) but below the European Union licence limit (as specified in column B of the table below).
(iii) A European Union licence will be required to export outside the European Union any items valued at or above the European Union licence limit (as specified in column B of the table below).
Both the European Union and the UK licences are issued by the Department for Culture, Media and Sport and application forms can be obtained from its Export Licensing unit. The table below shows the type of licence and the values at or above which and export licence is required in relation to a selection of some of the categories of items to which the licence requirements apply.
Column A: Within EEC
Column B: Outside Europe
Description of item of more than 50 years old
Value at or above which a UK licence will be required
Value at or above which an EU Licence will be required
Paintings in oil or tempera (other than of British Historic Persons)
£119,000
£91,000
Paintings in watercolour, gouache, pastel or other media ( other than of British Historic Persons)
£39,600
£18,000
Portraits or likenesses of British Historic Persons
£6,000
£6,000
Prints, Drawings and Engravings
£39,600
£9,100
Photographs, films and negatives
£6,000
£6,000
Sculptures
£39,600
£30,400
Books (I) 50 - 100 years old (ii) More than 100 years old
(I)£39600, (ii)£39600
(I) £39600, (ii)£30400
Clocks and Watches
£39,600
£30,400
Firearms (I) 50 - 100 years old (ii) more than 100 years old
(I)£39600 (ii)20000
(I) £30400 (ii)£20000
Please note that 'A British Historic Person' is a person listed in the Directory of National Biography, Who's Who or Who was Who.
A Department of Trade and Industry export license may be required for firearms regardless of value. Please seek specific guidance.
18: Data Protection.
For the purposes of the Data Protection Act 1998 the data controller is Batemans Auctioneers & Valuers Ltd of The Saleroom, Ryhall Road Stamford, Lincolnshire, PE9 1XF. Batemans will not disclose clients' personal data to any third party outside our group for the purposes of direct marketing.
19: Privacy and Cookies Policy
Our Privacy and Cookies Policy indicates the type of processes that may result in data being collected about you. Your use of this website gives us the right to collect that information.
Privacy: Your Personal Information
As a user of this site, we may collect and process your personal information.
Types of information:
Website Cookies and link tracking
Cookies allow us to provide important site functionality, so you don't have to re-enter lots of information. They also allow us to remember what links and pages have been clicked or viewed during a session. If you have provided us with personal data, completing a contact form for example, we may associate this personal data with other information. This will allow us to identify and record what is most relevant to you.
By using your browser controls, you are always in control of the cookies we store and access on your computer. More information on how to control cookies and limit personal data processing can be found at www.youronlinechoices.com/uk/five-top-tips.
Types of Communication
By Email
By submitting your email address, you are consenting to receive the particular piece of information you requested, as well as allowing us to send you appropriate and useful communications. You can unsubscribe from our communications by clicking the link in the footer of the email of any emails you receive from us.
By Phone
By submitting your telephone number you are consenting to receive contact by phone.
Information Usage
We use the information collected primarily to process your request for information. Data collected in the UK is held in accordance with the Data Protection Act. All reasonable precautions are taken to prevent unauthorised access to this information. This safeguard may require you to provide additional forms of identity should you wish to obtain information about your account details.
The information held about you might be used in the following ways:
• To ensure the content from our site is presented in the most effective manner.
• To provide you with information that you request from us or which we feel may interest you, where you have consented to be contacted for such purposes.
• To notify you about changes to our services.
We will not pass on your data to third parties without your consent.
Use of Cookies
Cookies are small text files placed onto your computer by the websites you visit. They are used to make websites work, to improve efficiency, the user experience and to provide usage information on websites.
By configuring your web browser, you can choose whether to accept cookies. Most web browser software is initially set up to accept them. If you do not want to receive cookies you should change your browser settings. Please note by disabling cookies, some services or website functionality may not be available. For further information about cookies and how to disable them please go to aboutcookies.org.
Cookies we use:
The cookies we use fall into two categories:
Essential cookies: These are cookies required for the operation of our website. They include, for example, cookies that enable you to log into secure areas of our website, and to use online forms.
Analytical cookies: They allow us to recognise and count the number of visitors and to see how visitors move around our website when they are using it. This helps us to improve the way our website works, for example, by ensuring users are finding what they are looking for easily.
The cookies we use are:
Google Analytics Cookies
Google Analytics is a tool that monitors websites and allows us to see volumes of website visitors, their source, and to analyse how our website is viewed and navigated. This allows optimisation of the content and pages on www.batemans.com and the marketing programs that drive traffic to the website. Google Analytics does not store any personal information about website visitors but does use persistent cookies to identify repeat visitors. You may universally opt-out of all Google Analytics tracking used by all websites by visiting the following url – https://tools.google.com/dlpage/gaoptout
20: Website Terms and Conditions
Terms and Conditions of Use
1. Acceptance: The Use Of www.batemans.com Terms and Conditions
Your access to and use of www.batemans.com is subject exclusively to these Terms and Conditions. You will not use the Website for any purpose that is unlawful or prohibited by these Terms and Conditions. By using the Website you are fully accepting the terms, conditions and disclaimers contained in this notice. If you do not accept these Terms and Conditions you must immediately stop using the Website.
2. Credit card details
www.batemans.com will never ask for Credit or Debit Card details and we request that you do not enter them on any of the forms on www.batemans.com.
3. Advice
The contents of www.batemans.com website do not constitute advice and should not be relied upon in making or refraining from making, any decision.
4. Change of Use
www.batemans.com reserves the right to:
4.1 change or remove (temporarily or permanently) the Website or any part of it without notice and you confirm that www.batemans.com shall not be liable to you for any such change or removal and.
4.2 change these Terms and Conditions at any time, and your continued use of the Website following any changes shall be deemed to be your acceptance of such change.
5. Links to Third Party Websites
5.1 www.batemans.com Website may include links to third party websites that are controlled and maintained by others. Any link to other websites is not an endorsement of such websites and you acknowledge and agree that we are not responsible for the content or availability of any such sites.
6. Copyright
6.1 All copyright, trademarks and all other intellectual property rights in the Website and its content (including without limitation the Website design, text, graphics and source codes connected with the Website) are owned by or licensed to www.batemans.com or otherwise used by www.batemans.com as permitted by law.
6.2 In accessing the Website you agree that you will access the content solely for your personal, non-commercial use. None of the content may be downloaded, copied, reproduced, transmitted, stored, sold or distributed without the prior written consent of the copyright holder. This excludes the downloading, copying and/or printing of pages of the Website for personal, non-commercial home use only.
7. Disclaimers and Limitation of Liability
7.1 The Website is provided on an AS IS and AS AVAILABLE basis without any representation or endorsement made and without warranty of any kind whether express or implied, including but not limited to the implied warranties of satisfactory quality, fitness for a particular purpose, non-infringement, compatibility, security and accuracy.
7.2 To the extent permitted by law, www.batemans.com will not be liable for any indirect or consequential loss or damage whatever (including without limitation loss of business, opportunity, data, profits) arising out of or in connection with the use of the Website.
7.3 www.batemans.com makes no warranty that the functionality of the Website will be uninterrupted or error free, that defects will be corrected or that the Website or the server that makes it available are free of viruses or anything else which may be harmful or destructive.
7.4 Nothing in these Terms and Conditions shall be construed so as to exclude or limit the liability of www.batemans.com for death or personal injury as a result of the negligence of www.batemans.com or that of its employees or agents.
8. Indemnity
8.1 You agree to indemnify and hold www.batemans.com and its employees and agents harmless from and against all liabilities, legal fees, damages, losses, costs and other expenses in relation to any claims or actions brought against www.batemans.com arising out of any breach by you of these Terms and Conditions or other liabilities arising out of your use of this Website.
9. Severance
9.1 If any of these Terms and Conditions should be determined to be invalid, illegal or unenforceable for any reason by any court of competent jurisdiction then such Term or Condition shall be severed, and the remaining Terms and Conditions shall survive and remain in full force and effect and continue to be binding and enforceable.
10. Governing Law
10.1 These Terms and Conditions shall be governed by and construed in accordance with the laws of England. Any dispute arising under these Terms and Conditions shall be subject to the exclusive jurisdiction of the courts of England.
For further information please email info@batemans.com.
21. Severability.
If any part of these Conditions of Sale is found by any court to be invalid, illegal or unenforceable, that part may be discounted and the rest of the conditions shall continue to be valid and enforceable.
22. Law and Jurisdiction.
These Conditions of Sale are subject to English Law, which shall apply to their construction as well as to their effect. For our benefit, the buyer and the seller submit to the exclusive jurisdiction of the English courts.
FULL CONDITIONS OF SALE AND TERMS OF CONSIGNMENT CONCERNING SELLERS
INTRODUCTION:
The conditions set out below are the terms on which Batemans, as auctioneers, contract with sellers and, as agent acting on behalf of sellers, with buyers. Buyers and sellers should read the conditions carefully, together with the explanation of cataloguing practice. This notice and conditions of sale apply to all sales including sales by private treaty. These conditions supercede all previous terms and conditions issued by Batemans.
1. Seller's Warranties.
The seller warrants to Batemans and to the buyer that, at all relevant times hereunder, including without limitation the time of sale,
(a) The seller is the true owner of the property, or is properly authorised to sell the property by the true owner and is able to and shall in accordance with these conditions transfer possession and good and marketable title to the property free from any third party claims (including without limitation any claims of governments or governmental agencies with respect to the property), liens or encumbrances;
(b) The seller has provided Batemans with all information the seller has concerning the provenance of the property and the seller agrees that the statements in the catalogue description are, to the best of their knowledge, correct.
(c) Unless the seller advises Batemans in writing to the contrary at the time the property is delivered to Batemans, that there are no restrictions, copyright or otherwise, relating to the property or on Batemans' rights to reproduce photographs of the property and the seller gives Batemans full and absolute rights to photograph and illustrate any lot consigned to a Batemans sale. The auctioneer retains copyright in all photographs taken and illustrations made by Batemans.
(d) For property not held on Batemans premises or under its control, that such property will be available and in a deliverable state at the time the buyer is entitled to take possession of the lot in accordance with these Conditions.
(e) Unless the seller of electrical or mechanical goods advises Batemans in writing to the contrary at the time the property is delivered to Batemans, such goods are safe if reasonably used for the purpose for which they were designed and are free from any defect not obvious on external inspection which could prove dangerous to human life or health,
(f) Unless the seller advises Batemans in writing to the contrary at the time the property is delivered to Batemans, the property has been properly and legally imported into the European Union and all taxes or duties on importation into the European Union have been paid.
(g) Neither the seller on his own behalf, nor any other person on the seller's behalf except the auctioneer, may make any bid in respect of lots of which the seller is the owner.
(h) Instructions regarding lots will only be accepted from the seller, which in this instance shall be taken as the person named on the receipt / entry form.
2. Seller's Commission, Minimum Fees and Lotting Fees.
(a) For All sales: if a lot sells, a seller's commission at the rate of 16.677% of the hammer price of each lot, together with any VAT chargeable thereon, is payable by the seller to Batemans, subject to a minimum commission charge of £10.00 plus VAT per sold lot.
(b) These charges will be deducted after the sale, and indicated on the seller's post-sale statement.
(c) The seller acknowledges that Batemans will receive from the buyer commission at their usual rates, on the sale of any lot, in addition to the said premium, and assents to Batemans receiving the said commission.
3. Illustration.
(a) Fine Art, Antiques & Collectables Sales:
(i) Online Catalogues: All lots will be photographed and illustrated online, on Batemans' own website www.batemans.com together with several other specialist auction sites including www.the-saleroom.com and www.easyliveauction.com. Batemans will not be held responsible for incorrect or missing photographs.
(ii) Printed Catalogues: Selected lots will be photographed and illustrated in our printed sale catalogues; Batemans will not be held responsible for incorrect or missing photographs and will have absolute discretion on photographs of lots chosen for illustration.
(b) Vintage & Attic Sales:
No lots will be photographed or illustrated either in online catalogues or in printed catalogues.
4. Removal Costs.
Items for sale must be consigned to Batemans by any stated deadline and at the seller's expense. Where items have been collected by Batemans' staff or a representative of Batemans, a minimum collection fee of £40 plus VAT shall be incurred and added to the seller's statement, unless otherwise agreed in writing with Batemans. Any liability incurred to any other third party carrier for haulage charges is solely the responsibility of the seller. These charges will be deducted after the sale, and indicated on the seller's post-sale statement.
5. Entering Items for Sale / Descriptions.
(a) Where a representative for the auctioneers has viewed an item in person, we will issue a written receipt briefly describing the item(s), and suggest whether a reserve is appropriate for the item(s).
(b) Please assist us with accurate information as to the provenance etc. of goods where this is relevant. There is strict liability for the accuracy of descriptions under modern consumer legislation and in some circumstances responsibility lies with sellers if inaccuracies occur.
(c) Sellers are required to sign and date a copy of the entry form and agree to our terms and conditions. When entering items for sale the seller agrees that the description of the items on the receipt is to their satisfaction, sufficient to identify the lot and, to the best of their knowledge, a true representation of the item(s) left in Batemans' possession. It is the responsibility of the seller to inform Batemans of any omissions, errors or inaccuracies on the entry form. We will assume that you have approved the catalogue description of your lots unless informed to the contrary.
(d) Where we are obliged to return the price to the buyer when the lot is a deliberate forgery under Condition 12 of the 'Conditions of Sale concerning buyers' and we have accounted to you for the proceeds of sale you agree to reimburse us the sale proceeds. The liability to reimburse the sale proceeds shall not arise where you are acting reasonably and honestly and are unaware of the forgery but we are or ought to have been aware of it.
6. Reserves.
Sellers are entitled to place prior to the auction a reserve on any lot consigned, being the minimum hammer price at which that lot may be sold, subject to the appropriate advice and consent of Batemans' Valuers and subject to a minimum acceptable reserve of £100.
Items entered into Vintage & Attic sales are consigned WITHOUT reserve or ESTIMATES.
(a) Each lot entered into a Fine Art, Antiques & Collectables sale shall be offered WITHOUT RESERVE unless otherwise agreed in writing to the contrary with Batemans, or as noted on the consignment (receipt) form.
(b) The low estimate, if any, should be clearly written on the receipt for the items at the time of Batemans' receipt of the goods. For higher value items (with low estimates set at £200 and above) a reserve at 80% of the low estimate value will be suggested. Sellers can request the reserve to be set lower than 80% of low estimate if they wish, in writing at the time of consignment.
(c) The reserve, if any, will only apply to the first sale in which the item is entered. Where no reserve is listed, Batemans may sell the item / lot at any price. Estimates are not reserves. Estimates are given as a guide to buyers. Unreserved items may sell at a fraction of an estimate if no reserve has been agreed.
(d) Where a reserve has been applied to a lot, the auctioneer may, on behalf of the seller, place bids (up to an amount not equalling or exceeding such reserve). Batemans may at its option sell at a hammer price below the reserve, provided that Batemans pays the seller the sale proceeds which the seller would have received had such lot sold at the reserve price.
(e) Batemans will be happy to suggest if a reserve would be appropriate on a seller's items. Reserves must be reasonable and we may decline to offer goods, which in our opinion would be subject to an unreasonably high reserve (in which case goods carry the storage charges stipulated in these 'Terms of Consignment').
(f) A reserve once set cannot be changed except with Batemans' consent.
7. Items Posted or Delivered to Batemans.
Where a representative from Batemans has not previously viewed the items in person and issued a hand written receipt / entry form for the items;
(a) Sellers must sign and date a copy of our terms and conditions and return this signed copy to Batemans before sending any items to via post or other transport. Sellers are reminded that all items are sent at the seller's sole risk.
(b) It shall be assumed that these items are to be sold with no reserve until such time as Batemans has had the opportunity to examine the items to their satisfaction.
(i) if, after examining the items, the Auctioneers believe they are suitable for entry into a sale, the auctioneers will issue a written receipt for the items, and agree in writing a reserve figure (if any) with the seller.
(ii) if the Auctioneers believe that any item is unsuitable for entry into auction, condition 10 (Unsaleable Goods, below) will be applied.
(c) If this suggested reserve figure is acceptable to the seller, the seller should sign and date their agreement on the entry form provided and post it to the Auctioneers. The auctioneers cannot accept agreement as to reserves via email or fax.
(d) If the reserve price is not acceptable to the seller, the seller must contact the Auctioneers and arrange for the item(s) to be returned, at the seller's sole expense.
(e) The auctioneers will return exactly and only those items as were received by them from the seller, in the same condition as were received.
(f) It is the responsibility of the seller to fully insure the items for whatever value they deem acceptable whilst in transit and to pay the cost of any transportation. This also applies if a lot is unsold and Batemans agree to return the item to the seller. The amount the item is insured for, however, will in no way be taken as a true valuation of the item by the auctioneers – see clause 6 below.
(g) Proof of the auctioneer's receipt of a posted package or consignment is not to be taken as proof of the auctioneer's acceptance, receipt or possession of an item. The auctioneers will only accept receipt or possession of an item or items as are listed by them on the entry form sent to the seller.
8. Risk of Loss or Damage.
(a) Loss and Damage Warranty. Batemans is not regulated by the FSA for the provision of insurance to its clients. However, Batemans for its own protection assumes liability for property consigned to it at the value of the goods. Unless otherwise instructed in writing, all goods on our premises and in our custody will be held insured against risk of fire, theft following forcible entry and water damage, and accidental breakage or damage, (but not against damage caused by humidity or temperature changes, inherent conditions or defects, error in processing, war, nuclear radiation or radioactive contamination).
(b) The value of the goods shall be the gross amount realised, (hammer price, if the lot has been sold), or in the case of unsold lots the reserve placed on an item, (where no reserve has been placed on an item the value of the goods shall be deemed as being a nominal value of £1 sterling.) In the case of lots withdrawn prior to a sale the value shall be that of the reserve placed on any lot (agreed in writing on the entry form, or that which Batemans' specialised staff shall in their absolute discretion estimate to be the auction value of such goods).
(c) The seller authorises Batemans to assume the risk of loss or damage to the property from the time of Batemans receipt of such property until risk of loss or damage to the property passes on to the buyer as set forth in condition (4) (b) of the buyer's conditions, until the item is collected by the seller, or until sixty days after the auction, whichever is earlier, unless, at the time the seller delivers the property to Batemans, the seller instructs Batemans in writing not to assume risk of loss or damage for any lot and within 10 days provides Batemans with a certificate of insurance and waiver of subrogation by the seller's insurer of all rights and claims that they may have against Batemans in connection with any loss or damage to the property in both cases in a form acceptable to Batemans.
(d) Batemans shall not be responsible for damage to or the loss, theft or destruction of any goods not so insured upon the owner's instructions.
(e) In respect of any article delivered to us if the vendor has in force a policy or policies of insurance in which an item is specifically mentioned as being insured, whether or not for any agreed sum or value, the vendor shall notify his insurers of and shall himself note our interest as bailee in such policy or policies.
9. Preparation for Sale.
(a) Batemans has sole and absolute discretion regarding the grouping of property into lots, providing catalogue and other descriptions, the date of the auction(s) and the manner of conducting each sale.
(b) Where lots with reserves have been combined or divided, the auctioneers shall combine or divide the lots in such a way that should all the lots sell at their agreed reserve price, the seller would receive no less than the full amount of the original combined reserve agreed (less any applicable commission, charges and VAT).
(c) The seller authorises Batemans to undertake any tests, researches or enquiries or to consult and rely on any outside experts, consultants or restorers in relation to the property as Batemans may, at their absolute discretion, deem appropriate.
10. Unsaleable Goods.
(a) All goods delivered to their premises or collected on Batemans behalf, will be considered as for entry for sale at auction, unless otherwise instructed by accompanying or previously received written notice. Items that, in Batemans opinion, have no saleable value may be disposed of at the Auctioneers' sole discretion either to a charity or by consignment for destruction. It shall be assumed that the seller agrees to such disposal, and that no prior notice of such disposal will necessarily be given. Batemans reserve the right to charge the seller for costs incurred for the disposal of such items. Where in our opinion an item is unsaleable you must collect such items from the saleroom promptly on being so informed. Otherwise, storage charges will be incurred as per above.
(b) If any item(s) is un-saleable by virtue of failing to attract a bid we will have absolute discretion to dispose of that item and charge for the service.
11. Electrical Items: These are subject to detailed statutory safety controls. Where such items are accepted for sale you accept responsibility for the cost of testing by external contractors. We reserve the right to dispose of unsafe goods as refuse, at your expense and without prior permission or further reference to the vendor.
12. Soft Furnishings: The sale of soft furnishings is strictly regulated by statute law in the interests of fire safety. Goods found to infringe safety regulations will not be offered and must be removed at your expense. We reserve the right to dispose of unsafe goods as refuse, at your expense and without further reference to the vendor. The minimum fee is £20 plus VAT per item.
The rights of disposal referred to above in clauses 10, 11 and 12 are subject to the provision of the Torts (Interference with Goods) Act 1977, Schedule 1, a copy of which is available for inspection on request.
13. Warehousing: We disclaim all liability for goods delivered to our saleroom without sufficient sale instructions, and reserve the right to make minimum warehousing charge of £2 per lot per day for small items and £10 per lot per day for furniture and large items.
14. Private Sales.
If a lot fails to reach its reserve, the seller authorises Batemans, as the seller's exclusive agent, for a period of forty days following the auction to sell the lot privately for a price that will result in a payment to the seller not less than the net amount (after payment to Batemans of the seller's commission, buyer's premium and expenses) to which the seller would have been entitled had the lot been sold at a price equal to the reserve.
15. Unsold Lots & Storage Fees:
(a) If a reserved item is unsold in the first sale it will be automatically re-offered for a second sale and the reserve price (if any) will automatically be dropped by 50% (or the nearest lower bidding increment) for the second sale, unless specifically agreed with the seller to the contrary in writing with Batemans.
(b) If the seller does not wish to enter items into a second sale, the seller must inform Batemans of the fact within 25 days of the first sale and must collect the item (s) within this time. Storage charges of £2 per lot per day for small items and £10 per lot per day for larger items and furniture will be charged from the 25th working day following the last sale in which the lot(s) were entered if items remain uncollected.
(c) Lots unsold after two sales will not automatically be relotted and must be collected within 25 days of the end of the second sale.
(d) If the seller fails to make arrangements for resale or collection within 25 working days following the items' sale, the auctioneers shall charge the seller storage fees of £2 per lot per day for small items and £10 per lot per day for larger items and furniture until collected and further shall have the right to:
(i) Remove the lot to an independent storage facility, for which the seller shall assume all risks and responsibilities; or
(ii) To re-offer the property at public auction WITH NO RESERVE and to deduct from the hammer price any sum owing to Batemans including without limitation, removal, storage and insurance expenses, the expenses of both auctions and all other reasonable expenses before remitting any excess to the seller or, if the seller cannot be traced, placing it in a bank account in the name of Batemans for the seller.
(iii) To dispose of the lot at the seller's expense or donate the lot to charity.
16. Withdrawn Lots.
(a) A minimum charge of £24 (£20 plus VAT) per withdrawn lot or 18% (15%+VAT) of the reserve price (whichever is the greater), will be payable by the seller. The seller must inform Batemans of their decision to withdraw a lot IN WRITING by post or email. Faxes will not be accepted. Instructions regarding lots will only be accepted from the person named as seller on the receipt / entry form.
(b) The seller may not withdraw property from the sale if instructions are received after the date on which the catalogue is initially sent to print (usually the Friday one week before the sale).
(c) If a seller withdraws an item before the first sale in which it has been entered, a penalty charge of 12% (10% plus VAT) of the reserve price will be payable to Batemans and will not be waived.
(d) Batemans may withdraw lots from the sale without any liability to the seller if Batemans believes that
(i) there is doubt as to its authenticity or attribution,
(ii) any of the seller's representatives or warranties are inaccurate in any way, or
(iii) the seller breaches any provisions of the conditions of sale.
17. Authority to Deduct Commission and Expenses and Retain Premium and Interest:
The seller authorises Batemans to deduct commission at the stated rate and all expenses incurred for the sellers account from the hammer price and consent to our right to retain beneficially the premium paid by the buyer in accordance with our 'Conditions of Sale' and any interest earned on the sale proceeds until the date of settlement.
a. Artworks Covered by the Artists Resale Rights:
It is our policy to charge the buyer an additional premium (as set out in the Notice to bidders) to cover our expenses relating to the payment of royalties under the Artists Resale Right Regulations 2006, and fully implemented 1st January 2012. If any such payment of an additional premium does not cover, in full, the amount of any payment due under the Artists Resale Right Regulations 2006 in relation to the sale of the lot by us or the buyer fails to pay the additional premium, you agree to pay us, on demand, any shortfall and agree that we may deduct such amount from the purchase price.
19. Payments & Settlement Date.
(a) After the sale, Batemans will post a Statement to the seller informing them whether lots were sold or unsold. On the settlement date, (at least ten working days and up to thirty five days after the completion of the sale) where net sale proceeds are in excess of £0.01 sterling a cheque will be written and posted to the seller, at the seller's risk. If the buyer pays after the settlement date, Batemans will post the net sale proceeds to the seller within ten working days of Batemans receipt of such payment in cash or cleared funds. Any monies owing to Batemans shall be paid by the seller within thirty five days from the settlement date.
(b) The seller authorises any sums owed to Batemans on other transactions to be deducted from the sale proceeds. You must note the liability to reimburse the proceeds of sale to us as under the circumstances provided for in Condition 5 (regarding Lot descriptions) above. You should therefore bear this potential liability in mind before parting with the proceeds of sale until the expiry of 28 days from the date of sale.
20. Obligation Regarding Lots Sold.
If the buyer fails to pay Batemans the total amount due on or by the settlement date the seller authorises Batemans at the seller's expense to pursue any one or more of the following courses;
(a) to agree special terms for payment of the total amount due,
(b) to remove, store and insure the lot sold,
(c) to settle claims made by or against the buyer on such terms as Batemans shall decide at their absolute discretion
(d) to take such steps as are necessary to recover the monies due by the buyer to the seller and, if necessary, to rescind the sale and refund the money to the buyer.
Without being under any obligation to do so, Batemans shall endeavour to notify the seller of the buyer's failure to pay prior to exercising its authority as granted in the preceding sentence. Batemans has no obligation to collect payment from the buyer, nor to undertake legal proceedings. The seller authorises Batemans to retain any handling, removal, storage, insurance and interest fees collected from the buyer or defaulting buyer.
If the buyer fails to pay the total amount due and Batemans remits an amount equal to the net sale proceeds to the seller, ownership of such lot shall pass to Batemans, which shall have the benefits of the sellers agreements, representations, warranties and indemnities set forth in these conditions.
Batemans are under no obligation to disclose the identity of either buyer or seller of any lot.
21. Estimates.
Batemans makes no representations or warranties as to the anticipated selling price of any item or property. No estimates anywhere made by Batemans, its servants or agents, whether in writing or orally, may be relied upon as a prediction of the actual selling price. Estimates in catalogues, receipts and elsewhere are subject to revision by Batemans from time to time in the exercise of its sole discretion.
22. Clients Money.
You are advised that all clients' money is held in the following account:
Batemans Auctioneers & Valuers Ltd Vendors Account
Account No: 31495712
Sort Code: 40-43-05
HSBC Bank plc, 1 High Street, Stamford, Lincs, PE9 2AL
This is a low interest bearing account. The interest will be retained by the auctioneers and is used to reduce bank costs helping us to continue offering competitive selling fees.
23: Data Protection.
For the purposes of the Data Protection Act 1998 the data controller is Batemans Auctioneers & Valuers Ltd of The Saleroom, Ryhall Road Stamford, Lincolnshire, PE9 1XF. Batemans will not disclose clients' personal data to any third party outside our group for the purposes of direct marketing.
24: Privacy and Cookies Policy
Our Privacy and Cookies Policy indicates the type of processes that may result in data being collected about you. Your use of this website gives us the right to collect that information.
Privacy: Your Personal Information
As a user of this site, we may collect and process your personal information.
Types of information:
Website Cookies and link tracking
Cookies allow us to provide important site functionality, so you don't have to re-enter lots of information. They also allow us to remember what links and pages have been clicked or viewed during a session. If you have provided us with personal data, completing a contact form for example, we may associate this personal data with other information. This will allow us to identify and record what is most relevant to you.
By using your browser controls, you are always in control of the cookies we store and access on your computer. More information on how to control cookies and limit personal data processing can be found at www.youronlinechoices.com/uk/five-top-tips.
Types of Communication
By Email
By submitting your email address, you are consenting to receive the particular piece of information you requested, as well as allowing us to send you appropriate and useful communications. You can unsubscribe from our communications by clicking the link in the footer of the email of any emails you receive from us.
By Phone
By submitting your telephone number you are consenting to receive contact by phone.
Information Usage
We use the information collected primarily to process your request for information. Data collected in the UK is held in accordance with the Data Protection Act. All reasonable precautions are taken to prevent unauthorised access to this information. This safeguard may require you to provide additional forms of identity should you wish to obtain information about your account details.
The information held about you might be used in the following ways:
• To ensure the content from our site is presented in the most effective manner.
• To provide you with information that you request from us or which we feel may interest you, where you have consented to be contacted for such purposes.
• To notify you about changes to our services.
We will not pass on your data to third parties without your consent.
Use of Cookies
Cookies are small text files placed onto your computer by the websites you visit. They are used to make websites work, to improve efficiency, the user experience and to provide usage information on websites.
By configuring your web browser, you can choose whether to accept cookies. Most web browser software is initially set up to accept them. If you do not want to receive cookies you should change your browser settings. Please note by disabling cookies, some services or website functionality may not be available. For further information about cookies and how to disable them please go to aboutcookies.org.
Cookies we use:
The cookies we use fall into two categories:
Essential cookies: These are cookies required for the operation of our website. They include, for example, cookies that enable you to log into secure areas of our website, and to use online forms.
Analytical cookies: They allow us to recognise and count the number of visitors and to see how visitors move around our website when they are using it. This helps us to improve the way our website works, for example, by ensuring users are finding what they are looking for easily.
The cookies we use are:
Google Analytics Cookies
Google Analytics is a tool that monitors websites and allows us to see volumes of website visitors, their source, and to analyse how our website is viewed and navigated. This allows optimisation of the content and pages on www.batemans.com and the marketing programs that drive traffic to the website. Google Analytics does not store any personal information about website visitors but does use persistent cookies to identify repeat visitors. You may universally opt-out of all Google Analytics tracking used by all websites by visiting the following url – https://tools.google.com/dlpage/gaoptout
25: Website Terms and Conditions
Terms and Conditions of Use
1. Acceptance: The Use Of www.batemans.com Terms and Conditions
Your access to and use of www.batemans.com is subject exclusively to these Terms and Conditions. You will not use the Website for any purpose that is unlawful or prohibited by these Terms and Conditions. By using the Website you are fully accepting the terms, conditions and disclaimers contained in this notice. If you do not accept these Terms and Conditions you must immediately stop using the Website.
2. Credit card details
www.batemans.com will never ask for Credit or Debit Card details and we request that you do not enter them on any of the forms on www.batemans.com.
3. Advice
The contents of www.batemans.com website do not constitute advice and should not be relied upon in making or refraining from making, any decision.
4. Change of Use
www.batemans.com reserves the right to:
4.1 change or remove (temporarily or permanently) the Website or any part of it without notice and you confirm that www.batemans.com shall not be liable to you for any such change or removal and.
4.2 change these Terms and Conditions at any time, and your continued use of the Website following any changes shall be deemed to be your acceptance of such change.
5. Links to Third Party Websites
5.1 www.batemans.com Website may include links to third party websites that are controlled and maintained by others. Any link to other websites is not an endorsement of such websites and you acknowledge and agree that we are not responsible for the content or availability of any such sites.
6. Copyright
6.1 All copyright, trademarks and all other intellectual property rights in the Website and its content (including without limitation the Website design, text, graphics and source codes connected with the Website) are owned by or licensed to www.batemans.com or otherwise used by www.batemans.com as permitted by law.
6.2 In accessing the Website you agree that you will access the content solely for your personal, non-commercial use. None of the content may be downloaded, copied, reproduced, transmitted, stored, sold or distributed without the prior written consent of the copyright holder. This excludes the downloading, copying and/or printing of pages of the Website for personal, non-commercial home use only.
7. Disclaimers and Limitation of Liability
7.1 The Website is provided on an AS IS and AS AVAILABLE basis without any representation or endorsement made and without warranty of any kind whether express or implied, including but not limited to the implied warranties of satisfactory quality, fitness for a particular purpose, non-infringement, compatibility, security and accuracy.
7.2 To the extent permitted by law, www.batemans.com will not be liable for any indirect or consequential loss or damage whatever (including without limitation loss of business, opportunity, data, profits) arising out of or in connection with the use of the Website.
7.3 www.batemans.com makes no warranty that the functionality of the Website will be uninterrupted or error free, that defects will be corrected or that the Website or the server that makes it available are free of viruses or anything else which may be harmful or destructive.
7.4 Nothing in these Terms and Conditions shall be construed so as to exclude or limit the liability of www.batemans.com for death or personal injury as a result of the negligence of www.batemans.com or that of its employees or agents.
8. Indemnity
8.1 You agree to indemnify and hold www.batemans.com and its employees and agents harmless from and against all liabilities, legal fees, damages, losses, costs and other expenses in relation to any claims or actions brought against www.batemans.com arising out of any breach by you of these Terms and Conditions or other liabilities arising out of your use of this Website.
9. Severance
9.1 If any of these Terms and Conditions should be determined to be invalid, illegal or unenforceable for any reason by any court of competent jurisdiction then such Term or Condition shall be severed, and the remaining Terms and Conditions shall survive and remain in full force and effect and continue to be binding and enforceable.
10. Governing Law
10.1 These Terms and Conditions shall be governed by and construed in accordance with the laws of England. Any dispute arising under these Terms and Conditions shall be subject to the exclusive jurisdiction of the courts of England.
For further information please email info@batemans.com.
26. Severability.
If any part of these Conditions of Sale is found by any court to be invalid, illegal or unenforceable, that part may be discounted and the rest of the conditions shall continue to be valid and enforceable.
27. Law and Jurisdiction.
These Conditions of Sale are subject to English Law, which shall apply to their construction as well as to their effect. For our benefit, the buyer and the seller submit to the exclusive jurisdiction of the English courts.
The above Conditions and all notices, descriptions, statements and other matters in the catalogue and elsewhere concerning any lot are subject to any statements modifying or affecting the same made by the auctioneer from the rostrum prior to any bid being accepted for the lot.
Definitions / Glossary
In our Terms and Conditions: The following expressions have specific legal meanings with which you may not be familiar. The following glossary is intended to give you an understanding of those expressions but is not intended to limit their legal meanings:
"Batemans" means Batemans Auctioneers & Valuers Ltd, whose principal place of business is at The Saleroom, Ryhall Road, Stamford, Lincolnshire, PE9 1XF, a company registered in England and Wales with company number 7965365.
"Auctioneer": the representative of Batemans conducting the sale.
"www.batemans.com" means a website owned and operated by 'Batemans'.
"www.the-saleroom.com" means a website owned and operated by Metropress Limited, whose principal place of business is at 65 Southwark Street, London, SE1 0HR; (trading as Auction Technology Group), a company registered in England and Wales with company number 01010311.
"www.easyliveauction.com" means a website owned and operated by Easy Live (Services) Limited T/A Easy Live Auction, whose principal place of business is at Auction House, Finmere Road, Eastbourne, East Sussex, BN22 8QL, a company registered in England and Wales with company number 7917275.
"the bidder": the person bidding at the sale, or in the case of a bid made by and employee or other representative of Batemans pursuant to a commission bid or telephone bid form, the person whose details have been given on the commission bid form or telephone bid form.
"the hammer price" means the amount of the highest bid accepted by the auctioneer, and knocked down to the buyer.
"the purchase price" is the aggregate of the hammer price, (plus VAT on the hammer price if applicable to the lot), plus the premium and the VAT payable on the premium and any expenses payable to Batemans.
"the buyer": means the person with the highest bid accepted by the auctioneer.
"the lot" means any item deposited with us for sale at auction and, in particular, the item or items described against any lot number in any catalogue.
"reserve": the minimum hammer price as agreed between Batemans and the seller in accordance with the seller's agreement with Batemans at which a lot may be sold.
"the buyer's premium" means the charge payable by the buyer as a percentage of the hammer price, at the rate set out under condition (4).
"the total amount due" means the aggregate of the hammer price, the premium, any VAT chargeable on the hammer price and the premium, together with any additional charges and expenses from a defaulting buyer under condition (5).
"Forgery" means a lot constituting a modern deliberate imitation originally conceived and executed as a whole in, or after, 1870 with a fraudulent intention to deceive as to authorship, origin, age, period, culture or source where the correct description to such matters is not reflected by the description in the catalogue and which at the date of the auction had a value materially less than it would have had if it had been in accordance with the description in the catalogue. Accordingly, no lot shall be capable of being a forgery by reason of any damage and/or restoration work of any kind (including repainting).
"Description": any statement or representation in any way descriptive of the Lot, including any statement or representation relating to its authorship, attribution, condition, provenance, authenticity, style, period, age, suitability, quality, origin, value, estimated selling price (including the Hammer Price).
"Entry": a written statement in the Catalogue identifying the Lot and its Lot number which may contain a Description and illustration(s) relating to the Lot.
"Estimate": a statement of our opinion of the range within which the hammer is likely to fall.
"the seller" means the owner or authorised agent thereof or person in possession of the property consigned. If there are multiple owners or an agent or possessor, each shall assume all obligations, liabilities, representations, warranties and indemnities on behalf of the seller set forth in these Conditions of business. Instructions regarding lots will only be accepted from the seller, which in this instance shall be taken as the person named on the receipt / entry form to whom any monies are to be paid.
"seller's premium / seller's commission" means the commission payable to Batemans by a seller at the published rates from time to time applicable to the relevant sale, plus applicable VAT.
"settlement date" means a date thirty five days after the last session of each auction.
"net sale proceeds" means the hammer price of the lot sold received by Batemans in cash or cleared funds, less seller's premium and expenses and any other amounts due to Batemans by the seller in whatever capacity and howsoever arising.
"artist's resale right": the right of the creator of a work of art to receive a payment on Sales of that work subsequent to the original Sale of that work by the creator of it as set out in the Artists Resale Right Regulations 2006 and fully implemented as of 1st January 2012.
"bailee": a person to whom goods are entrusted.
"indemnity": an obligation to put the person who has the benefit of the indemnity in the same position in which he would have been, had the circumstances giving rise to the indemnity not arisen and the expression "indemnify" is construed accordingly.
"interpleader proceedings": proceedings in the Courts to determine ownership or rights over a Lot.
"knocked down": when a Lot is sold to a Bidder, indicated by the fall of the hammer at the Sale.
"lien": a right for the person who has possession of the Lot to retain possession of it.
"risk": the possibility that a Lot may be lost, damaged, destroyed, stolen, or deteriorate in condition or value.
"title": the legal and equitable right to the ownership of a Lot.
"tort": a legal wrong done to someone to whom the wrong doer has a duty of care.
SALE OF GOODS ACT 1979 The following is an extract from the Sale of Goods Act 1979: "Section 12 Implied terms about title, etc (1) In a contract of sale, other than one to which subsection (3) below applies, there is an implied term on the part of the seller that in the case of a sale he has a right to sell the goods, and in the case of an agreement to sell he will have such a right at the time when the property is to pass. (2) In a contract of sale, other than one to which subsection (3) below applies, there is also an implied term that- (a) the goods are free, and will remain free until the time when the property is to pass, from any charge or encumbrance not disclosed or known to the buyer before the contract is made, and (b) the buyer will enjoy quiet possession of the goods except in so far as it may be disturbed by the owner or other person entitled to the benefit of any charge or encumbrance so disclosed or known. (3) This subsection applies to a contract of sale in the case of which there appears from the contract or is to be inferred from its circumstances an intention that the seller should transfer only such title as he or a third person may have. (4) In a contract to which subsection (3) above applies there is an implied term that all charges or encumbrances known to the seller and not known to the buyer have been disclosed to the buyer before the contract is made. (5) In a contract to which subsection (3) above applies there is also an implied term that none of the following will disturb the buyer's quiet possession of the goods, namely- (a) the seller; (b) in a case where the parties to the contract intend that the seller should transfer only such title as a third person may have, that person; (c) anyone claiming through or under the seller or that third person otherwise than under a charge or encumbrance disclosed or known to the buyer before the contract is made. (5A) As regards England and Wales and Northern Ireland, the term implied by subsection (1) above is a condition and the terms implied by subsections (2), (4) and (5) above are warranties."

Auctioneer Shipping Policy
We only offer an in house packing and shipping service for small items of jewellery, watches and vertu, if you think we can help please email requesting a quote for P&P.
For most items buyers are therefore advised to contact one of the following firms to arrange collection, packing and shipping on their behalf, otherwise collection can of course be made in person.

Auction Logistics (by MBE): www.mbe.co.uk/auction
MBE Mailboxes Etc (Nottingham): www.mbe.co.uk/nottingham Telephone: 01159 472779
ACDS Auction Collection & Delivery Service: www.auctioncollection.co.uk
Telephone: 07951 779447 / 07487 554881
PackSend (Cambridge): www.packsend.co.uk/cambridge Telephone: 01223 464821
Alban Shipping: www.albanshipping.co.uk Telephone: 0800 612 5060