A good Japanese Satsuma porcelain figure by Kinkozan, Meiji ...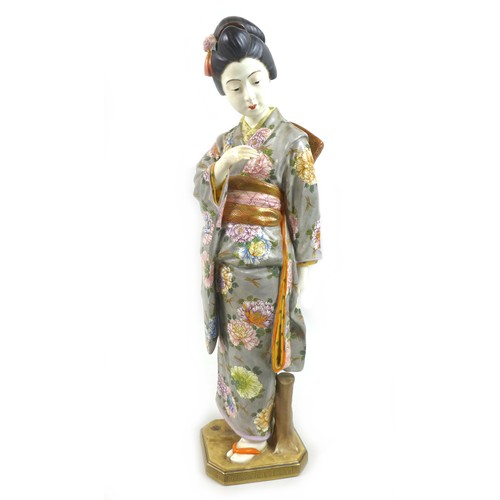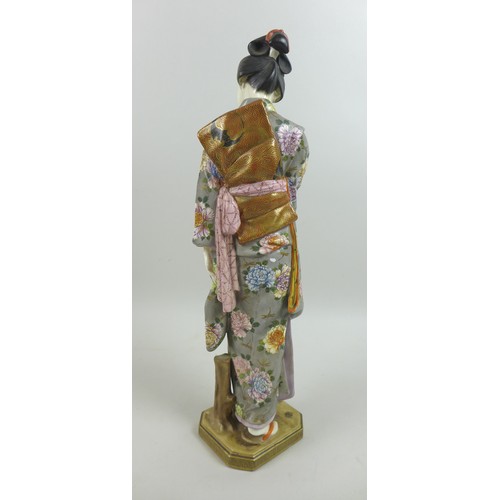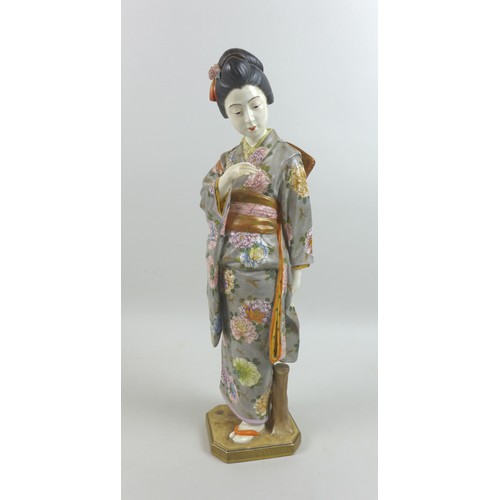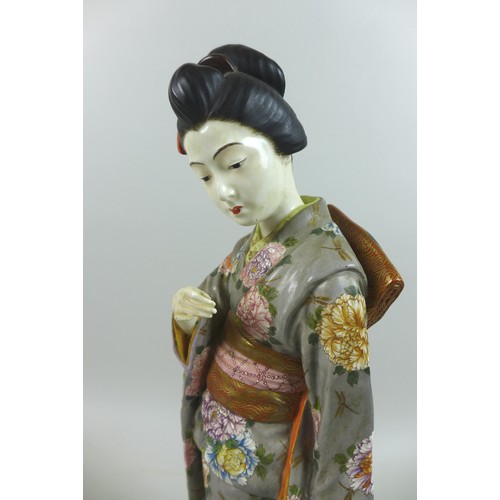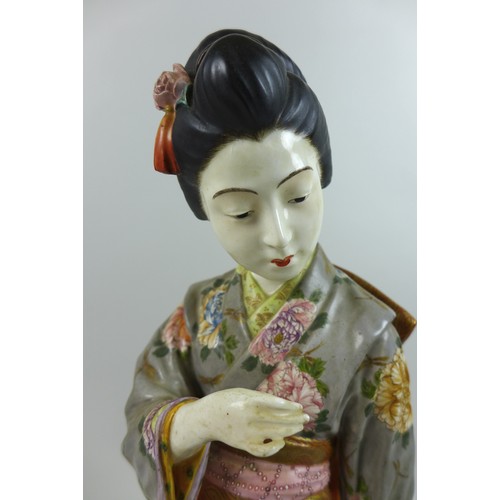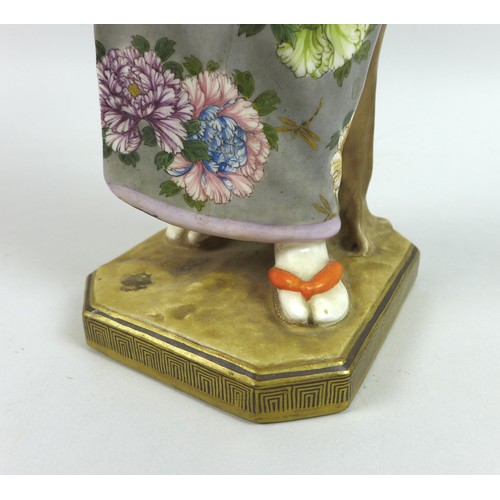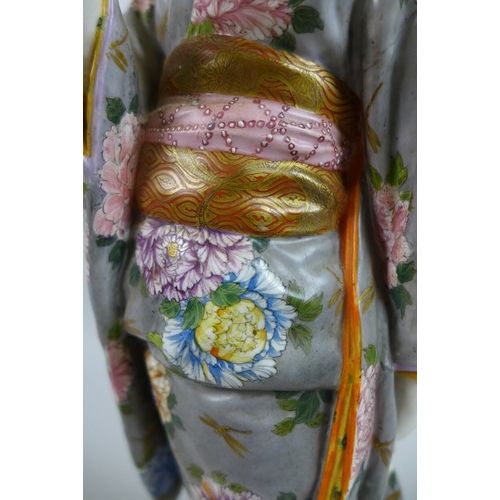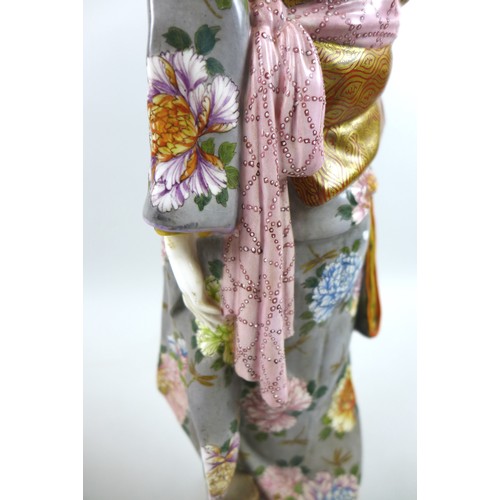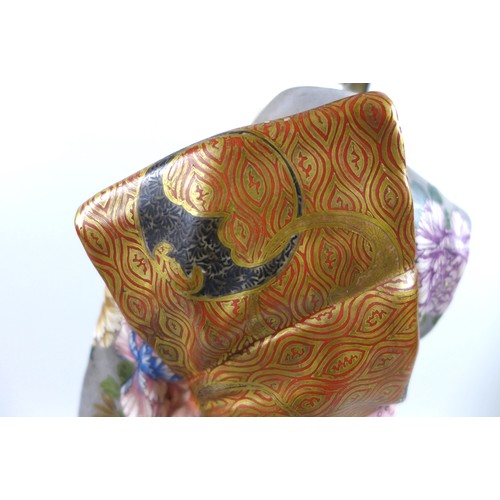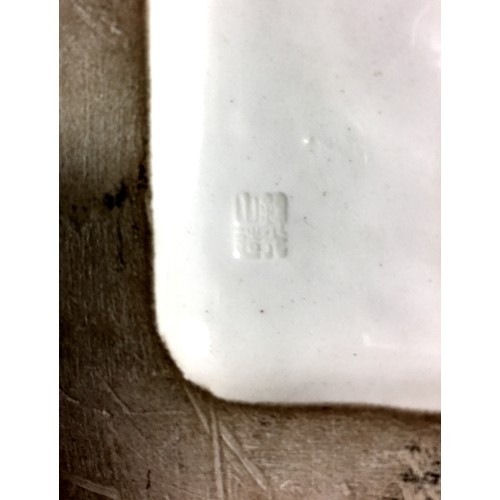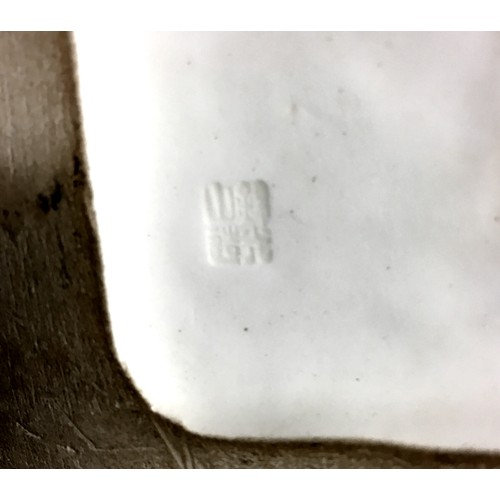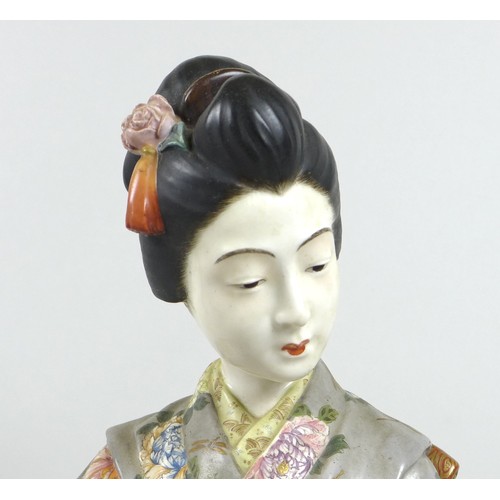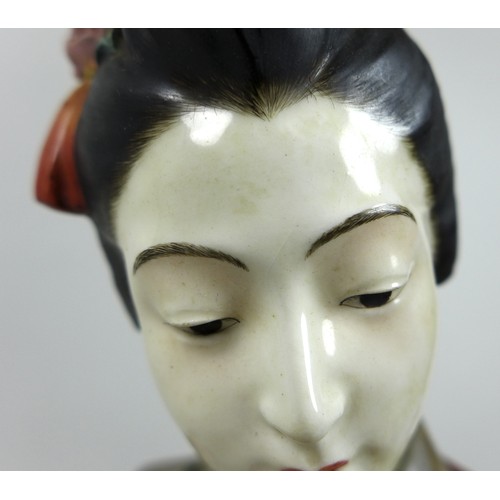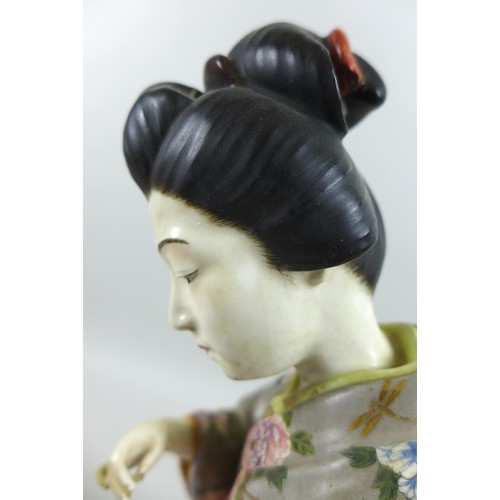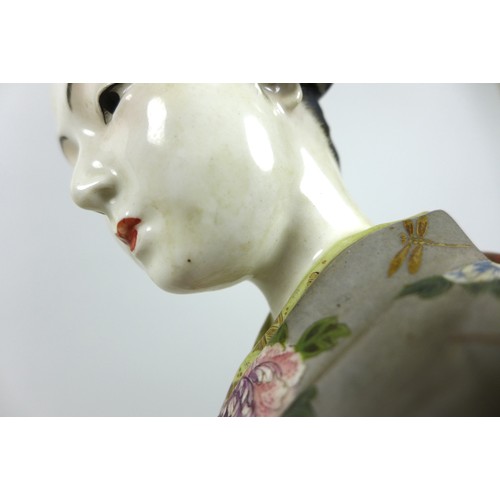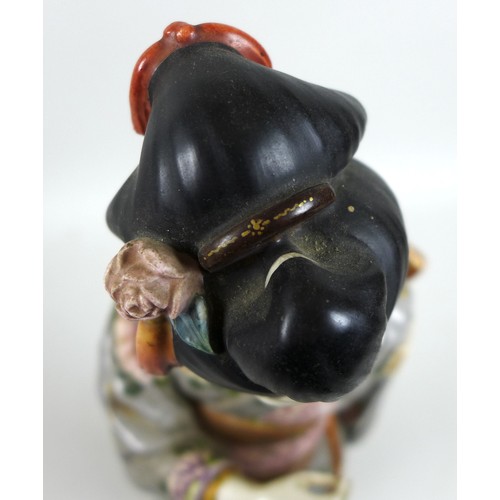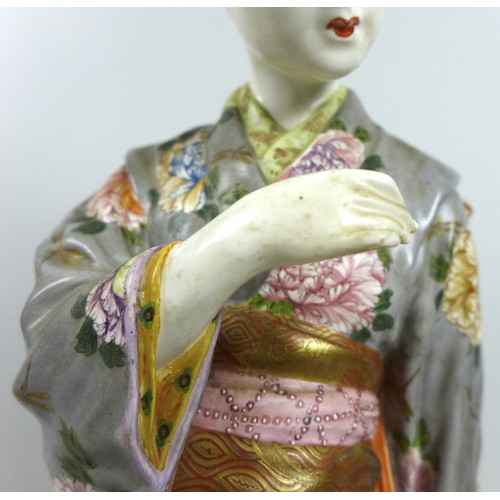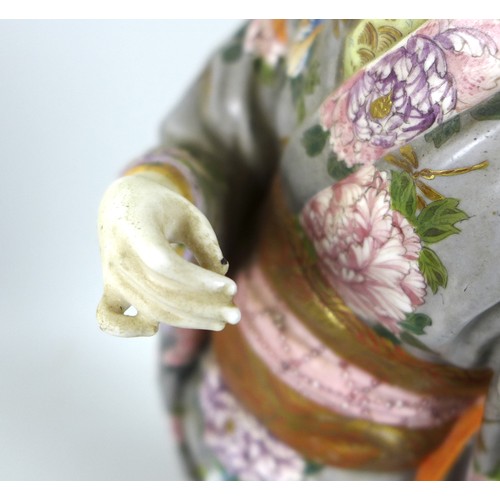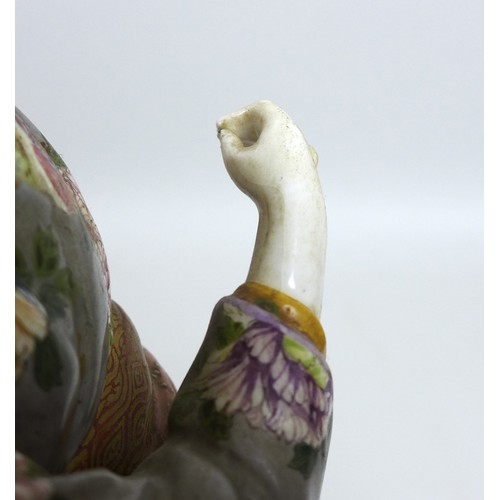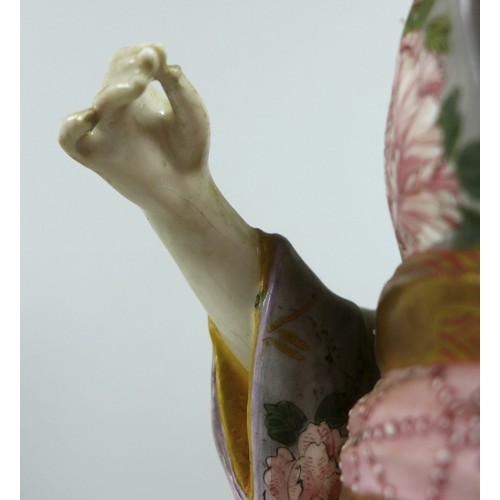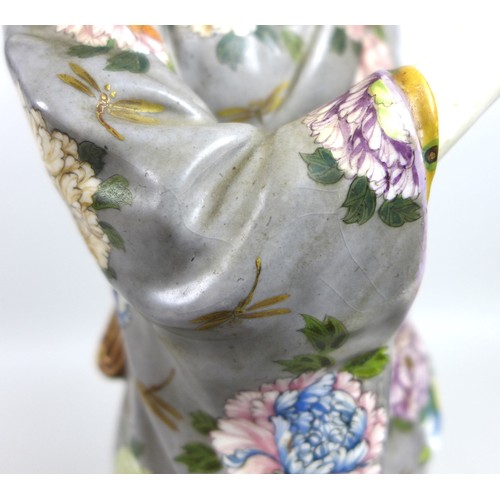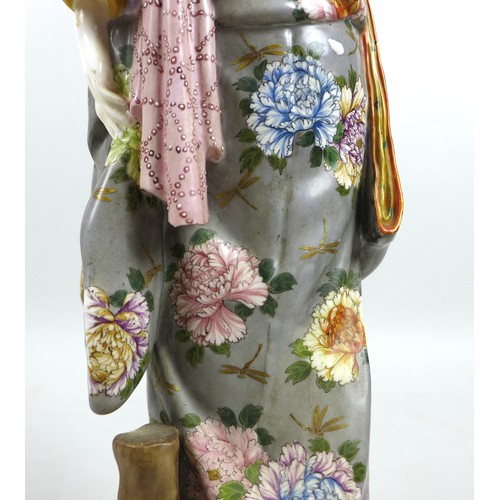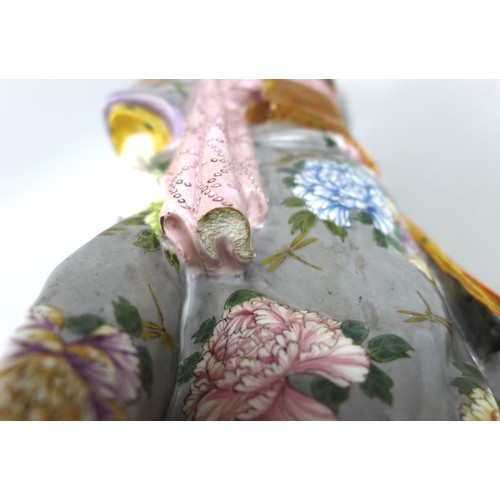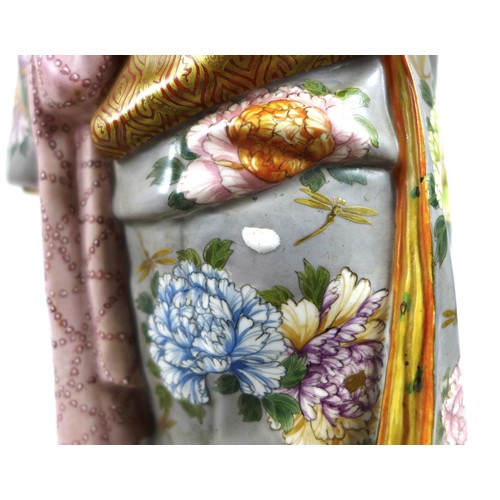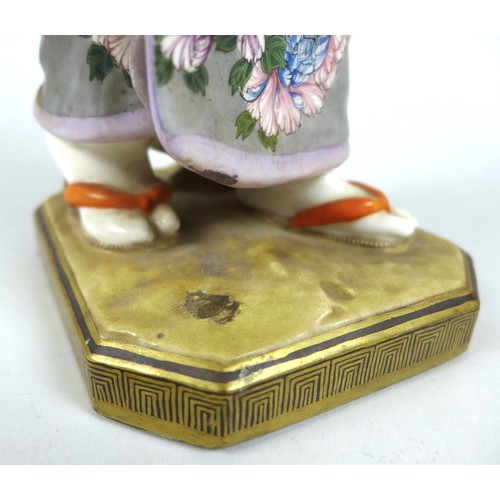 A good Japanese Satsuma porcelain figure by Kinkozan, Meiji period, modelled as a young Japanese woman in standing pose, her head tilted down and to the left towards her raised right hand, her left arm hangs by her side, a pink flower kanzashi in her black hair, wearing a grey kimono beautifully painted with large chrysanthemums and golden dragonflies, yellow ground haneri visible beneath, her red ground obi with large bat symbols over a gilt leaf pattern, held in place by a pink and white spotted obijime, white tabi and zori with orange straps, on an integral rectangular base with canted corners and naturalistic tree stump, gilt geometric pattern to it's sides, impressed seal mark 'Kinkozan zo' to base, 10 by 11 by 45.5cm high.
More Information
In good condition with only minor problems, hairline cracks and crackleure to glaze including one along her right hand and arm. There is a small missing piece broken off from the draped end of her pink obijime - only visible frrm the back. There also appears to be a missing part that looks to have been stuck to the base below the lower hem of her kimono, there is a circular rough patch on the ground and missing glaze on the hem above it. In need of cleaning and with normal light scratches overall from use.
Auction Date:
1st Feb 2020

at 10am



Fees apply to the hammer price:
Room and Absentee Bids:
20% inc VAT*
Online and Autobids:
23.6% inc VAT*
*These fees include buyers premiums and internet surcharges.
Please see the
auctioneers terms & conditions
for more information
Other Lots in this Auction
Sale Dates:
1st Feb 2020 10am (Lots 1 to 290)

Telephone(s):
01780 766466